Fullscript
We are proud to be able to offer top-of-the-line supplements at a discounted price! Set up your Fullscript account today to get started. If you're not working with a practitioner, you may still set up an account to gain access to our favorite brands at discounted rates.
Can't decide what to order? Contact us for assistance!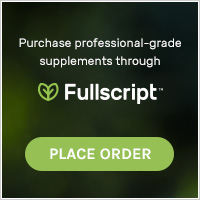 Ready to finally heal your gut?
Schedule your FREE 15-minute phone call today!
Call or text 678-424-6520 or click below to schedule online.
What our clients are saying…
Taylor has helped me so much! After years of discomfort and problems Taylor has systematically helped me evaluate my diet. We have been able to replace and repair so that I can easily feel great everyday. Thanks Taylor!
Rachel Silva is awesome! I had been dealing with GERD for over 5 years and taking PPI prescription, which started causing other issues. Rachel diagnosed my digestive sensitivities and gave excellent recommendations for a personalized diet to help me stop the medication. No more digestion issues and I feel so much better! I have recommended the Nutrition Clinic to other family and friends experiencing digestive issues, who also love working with Rachel.